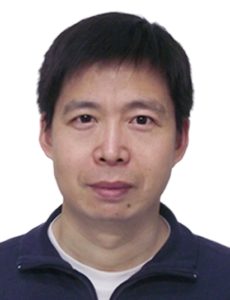 Sanjun Sun received his PhD in Translation Studies from Kent State University in 2012. He is Associate Professor of Translation Studies at Beijing Foreign Studies University, Beijing. He is co-editor of Chinese journal
Translation Horizons
and former director of the MTI (Master of Translation & Interpreting) program, which enrolls around 80 students a year. He has co-authored two books in Chinese on translation and language studies, and published articles in
Meta
,
Target
,
Perspectives
, and other journals. His research interests include cognitive translation studies and translation technology. He had work experience for years in translation companies and as a freelance translator.
Papers
Translation, Cognition & Behavior, 2(1), 125-146
中国翻译,2019,40(04):82-90+189
Perspectives, 25(1), 98-119
Across Languages and Cultures., 16(1), 29–54.
Translation Spaces, 3, 167-191
Meta: Translators' Journal, 56(4), 928-951
Book chapters
In Li, D., Lei, V. & He, Y. (Eds.), Researching Cognitive Processes of Translation (pp. 139-168). Berlin: Springer
In C. Shei & Z.-M. Gao (Eds.), The Routledge Handbook of Chinese Translation (pp. 275-290). London: Routledge
In C. V. Angelelli & B. J. Baer (Eds.), Researching Translation and Interpreting (pp. 269-279). London:Routledge
In C. A. Chapelle (Ed.), The Encyclopedia of Applied Linguistics (Vol. 9, pp. 5408-5412). New York: Wiley-Blackwell
In 黄忠廉, 方梦之, & 李亚舒 (Eds.), 应用翻译学 (pp. 260-289). 北京: 国防工业出版社
Books
语言研究:方法与工具(Research Methods in Language Studies).
合肥: 安徽大学出版社(Hefei: Anhui University Press)
翻译实用手册(A Translator's Handbook).
北京: 外语教学与研究出版社(Beijing: Foreign Language Teaching And Research Press)
Translations
希望与野心:一个真实的希拉里(Her Way: The Hopes and Ambitions of Hillary Rodham Clinton, authored by Jeff Gerth & Don Van Natta Jr., 2007). 北京:中信出版社.
2020.3. 多译本英汉平行语料库,中央高校基本科研业务费专项资金 (2020JS001),负责人
2019.7. 翻译材料难度量化分级研究,国家社会科学基金项目 (19BYY115),负责人
2016.7. 翻译难度测量与分级研究,北京市社会科学基金项目 (16YYB017),负责人
2016.7. MTI 学位论文选题热点可视化分析及论文结构模式探索,2016年度全国翻译专业学位研究生教育指导委员会教育研究项目(MTIJZW201601),负责人
2015.11. 翻译认知过程之实证研究,北京外国语大学青年学术创新团队项目 (2016JT004),负责人
2015.1:翻译测试评分实证研究,中央高校基本科研业务项目(2015JJ003),负责人
2014.12:翻译与中国文化外交,教育部留学回国人员科研启动基金项目,负责人

Teaching and Research Awards
2016年度、2015年度北外孙先东学术奖教金
2015年度、2014年度北外卡西欧论文奖
2014-2015 2017-2018 北外英语学院研究生教学奖
2013-2014, 2017-2018 北外英语学院本科教学奖
2008-2011 肯特州立大学 Outstanding Academic Achievement: 4.0 Cumulative Grade Point Average